About Me
Welcome to the home page of Professor Hein Meling of the Department of Electrical Engineering and Computer Science at the University of Stavanger, Norway.
I completed my PhD in 2006 from the Norwegian University of Science and Technology. Prior to that, I received an MS in computer science from University of Stavanger in 1997. I was associate professor from 2002, and full professor since 2014, both at the University of Stavanger.
Recent News
A well-paying PhD research fellowship is available in the area of blockchains and smart contracts at the University of Stavanger. The project will provide opportunities for the selected PhD student to work with researchers in Stavanger and collaborators around the world: Lawrence Berkeley National Lab, University of California Davis, University of Oslo, University of Tromsø, University of Trento, Sapienza, and Cornell to name a few. A summer school is planned as part of the course work.
The announcement has now been officially posted. The application deadline is January 3, 2018. Please feel free reach out if you have any questions about the position. To apply, please follow the instructions in the announcement.
I started my sabbatical at Lawrence Berkeley National Lab and UC Davis in mid-August 2017. I will be traveling regularly between Stavanger and Berkeley until August 2018.
Our evaluation paper on different reconfiguration algorithms for atomic storage The Case for Reconfiguration without Consensus: Comparing Algorithms for Atomic Storage has been published at OPODIS, 2016.
The Tidal News project has ended; here is a popular science summary of the results of the project.
Here is a link to the LaTeX workshop slides.
Leander is on a roll! Our paper SmartMerge: A New Approach to Reconfiguration for Atomic Storage has been accepted for DISC, 2015.
Our paper Replacement: Decentralized Failure Handling for Replicated State Machines has been accepted for SRDS, 2015.
It seems our Paxos Explained from Scratch tutorial have made it to the front page of Hacker News. We should really update it!
Yay! Finally, our Zorfu paper was accepted for publication in IEEE Transactions on Dependable and Secure Computing. Check it out here.
Consider submitting your paper to DEBS 2015 to be organized in Oslo June 29-July 3 2015.
Our paper BChain: Byzantine Replication with High Throughput and Embedded Reconfiguration has been accepted for OPODIS, 2014.
Our paper Byzantine Fault Tolerance from Intrusion Detection was selected as a runner up for the best paper award at SRDS, 2014.
Morten's paper Testing Robot Controllers using Constraint Programming and Continuous Integration has been accepted for publication in Information and Software Technology.
Leander will be presenting our brief announcement: Replacement - Handling Failures in a Replicated State Machine at DISC 2014 in Austin, Texas.
Morten's paper Using CP in Automatic Test Generation for ABB Robotics' Paint Control System has won the best application track paper award at CP 2014, to be presented in September.
Our paper Byzantine Fault Tolerance from Intrusion Detection was just accepted for publication at SRDS, Japan, October 2014. Great job, Sisi and my other co-authors.
Morten is on roll these days, two of his papers have been accepted for publication. First, Using CP in Automatic Test Generation for ABB Robotics' Paint Control System has been accepted at CP 2014, and Testing Robotized Paint System using Constraint Programming: An Industrial Case Study has been accepted at ICTSS 2014.
I presented my Paxos tutorial to the Future Technologies Group, the DEGAS project at Lawrence Berkeley National Lab. June 11, 2014.
I presented my Paxos tutorial at University of California, Davis. June 6, 2014.
I'm visiting University of California, San Diego, June-August 2014.
Sisi Duan and Haibin Zhang from University of California, Davis is visiting our department January-April 2014. Thanks to the Leiv Eiriksson Mobility Program for funding their stay.
Leander recently presented our paper on Asynchronous Reconfiguration of Paxos State Machines at ICDCN 2014 in India.
Professional Activities
Proceedings Chair DEBS 2015.
Program Committee ICDCS 2014.
Program Committee DAIS 2014.
Program Committee OPODIS 2013.
In August 2012 we organized a Workshop on Byzantine Fault Tolerance in Large Scale Loosely Coupled Systems in Stavanger. Invited speakers: Lorenzo Alvisi, Allen Clement, Marko Vukolic, and Reza Sherafat.
Funding
I am truly grateful to our funding agencies for making our research possible. In particular, I wish to thank the Research Council of Norway for funding two major projects: IS-Home and Tidal News. These projects have funded the PhD education of a total of 5 students. I'm also fortunate to have been awarded several PhD positions from the faculty of science and technology at the University of Stavanger. In addition, I would like to thank Prekubator TTO and our industrial supporters: Altibox, Lyse, Telenor iLabs, and ABB Robotics for their contributions to computer science research.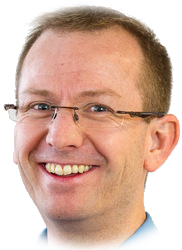 Always look for the simplest and most elementary way to explain something. Only if you can't explain it simply, you need to resort to more sophistication.
—Richard Feynman