A Virtual Tribute to Quark Confinement and the Hadron Spectrum
August 2nd-6th 2021, online
This virtual event is organized for the community by the hosts of the 14th Quark Confinement and the Hadron Spectrum Conference, which takes place in person at the University of Stavanger, Norway in the summer of 2022.
Abstract submission & Registration via Indico
Contact the local organizers: via email
About the virtual event
Important Dates
---
Abstract submission opening:
14 December 2020
Abstract submission deadline:
17 May 2021
Abstract submission acceptance notification:
1 June 2021
Note that participation in the event is free of charge but registration with institutional email address is required.
Proceedings
---
About the Quark Confinement and Hadron Spectrum conference series
Inaugurated in 1994 in Como, Italy, this series of conferences has become an important forum for scientists working on strong interactions, stimulating exchanges among theorists and experimentalists as well as across related fields.
The aim of the conference is to bring together people working on strong interactions from different approaches, ranging from lattice QCD to perturbative QCD, from models of the QCD vacuum to QCD phenomenology and experiments, from effective theories to physics beyond the Standard Model.
The scope of the conference also includes the interface between QCD, nuclear physics and astrophysics, and the wider landscape of strongly coupled physics. In particular, the conference will focus on the fruitful interactions and mutual benefits between QCD and the physics of condensed matter and strongly correlated systems.
The fourteenth edition of this conference series will be jointly hosted by the
University of Stavanger
and the
Academy of Science Stavanger
. The event will take place at the Ullandhaug Campus of the University of Stavanger, Norway, between August 1st - 6th, 2022.
Dedication
This virtual event is dedicated to two of our colleagues who recently passed away:
Ann Nelson
and
Simon Eidelman
. On Wednesday, August 4th 2021 at 16:10 (EU) - 10:10 (US EDT) we will remember them with talks by Howard Georgi and Edward Shuryak.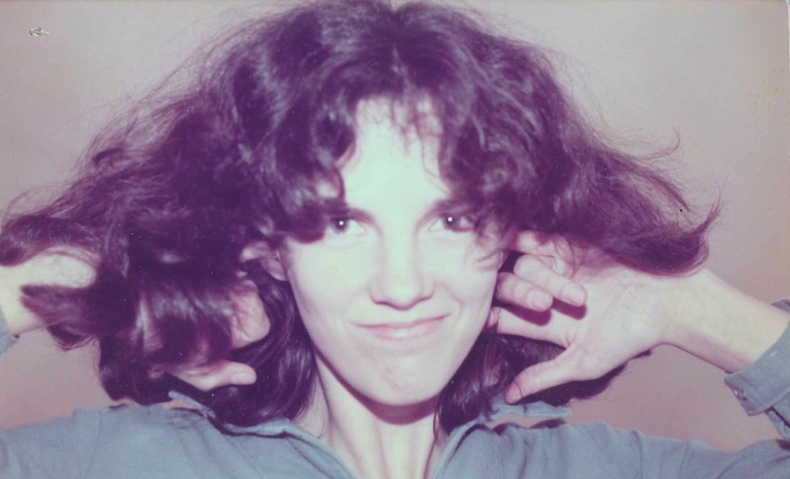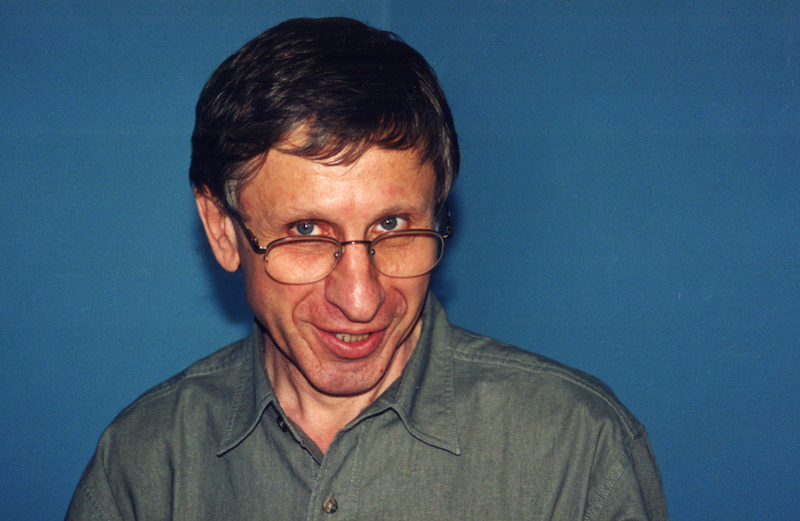 vConf2021 outreach lecture series for the general public
International HEP Masterclass demonstrations for Physicists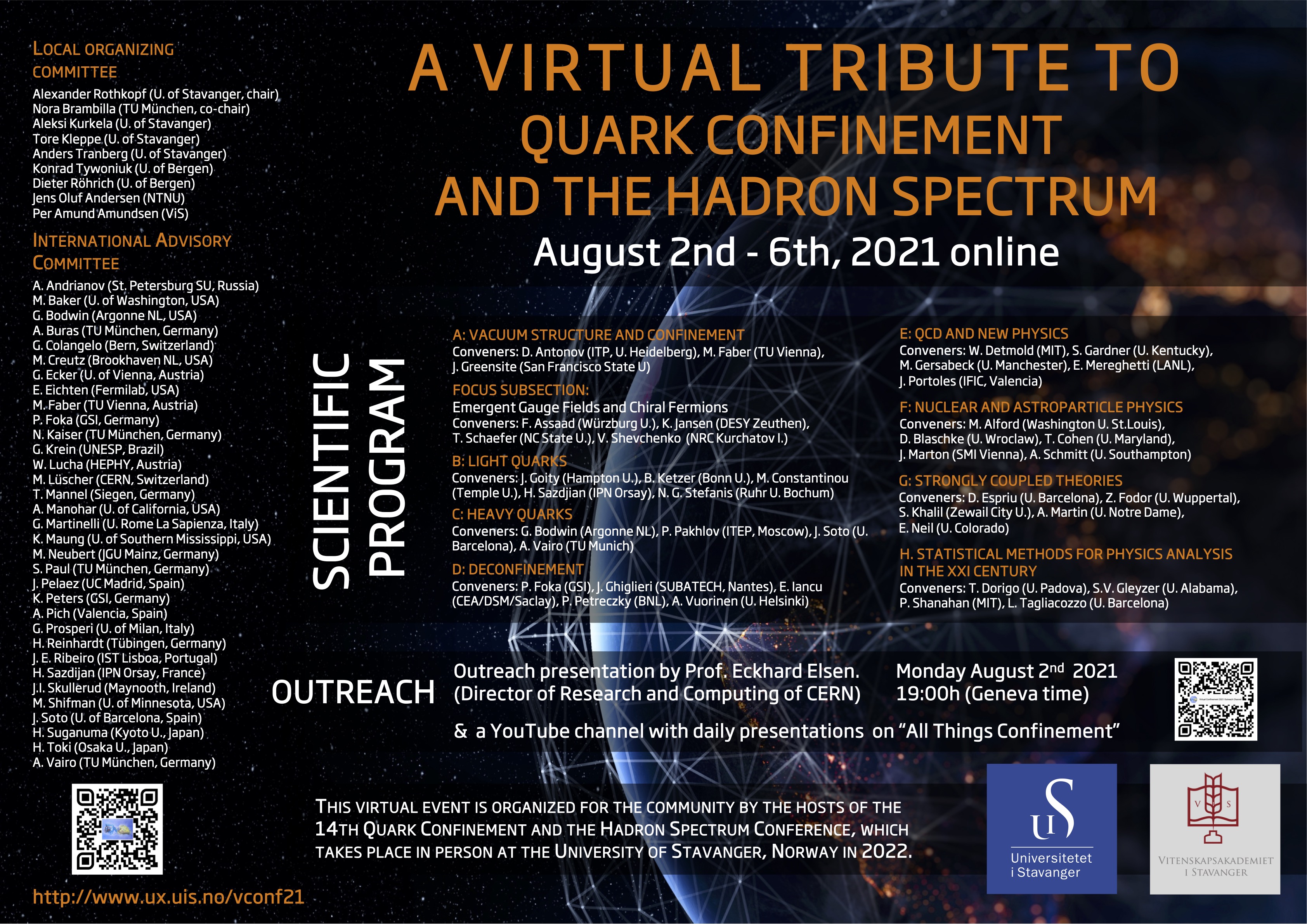 Local organizing committee
Alexander Rothkopf (U. of Stavanger, chair)
Nora Brambilla (TU München, co-chair)
Aleksi Kurkela (U. of Stavanger)
Tore Kleppe (U. of Stavanger)
Laura Tolos (U. of Stavanger / ICE)
Anders Tranberg (U. of Stavanger)
Konrad Tywoniuk (U. of Bergen)
Dieter Röhrich (U. of Bergen)
Jens Oluf Andersen (NTNU)
Per Amund Amundsen (ViS)
International Advisory Committee
A. Andrianov (St. Petersburg SU, Russia)
M. Baker (U. of Washington, USA)
G. Bodwin (Argonne NL, USA)
A. Buras (TU München, Germany)
G. Colangelo (Bern, Switzerland)
M. Creutz (Brookhaven NL, USA)
G. Ecker (U. of Vienna, Austria)
E. Eichten (Fermilab, USA)
M. Faber (TU Vienna, Austria)
P. Foka (GSI, Germany)
N. Kaiser (TU München, Germany)
G. Krein (UNESP, Brazil)
W. Lucha (HEPHY, Austria)
M. Lüscher (CERN, Switzerland)
T. Mannel (Siegen, Germany and Oxford, UK)
A. Manohar (U. of California, USA)
G. Martinelli (U. Rome La Sapienza, Italy)
K. Maung (U. of Southern Mississippi, USA)
M. Neubert (JGU Mainz, Germany)
S. Paul (TU München, Germany)
J. Pelaez (UC Madrid, Spain)
K. Peters (GSI, Germany)
A. Pich (Valencia, Spain)
G. Prosperi (U. of Milan, Italy)
H. Reinhardt (Tübingen, Germany)
J. E. Ribeiro (IST Lisboa, Portugal)
H. Sazdijan (IPN Orsay, France)
J.I. Skullerud (Maynooth, Ireland)
M. Shifman (U. of Minnesota, USA)
J. Soto (U. of Barcelona, Spain)
H. Suganuma (Kyoto U., Japan)
H. Toki (Osaka U., Japan)
A. Vairo (TU München, Germany)